FuseFX creates 'a-ha' moment for 'Glee'
During this month's premiere episode of Glee, now in its final season on Fox, show stars Lea Michelle and Chris Colfer lead the students of McKinley High, along with viewers at home, back to the '80s, where MTV featured a-ha's Take On Me music video on heavy rotation.
What was then a groundbreaking rotoscoping technique of turning the real-life band members into pencil-sketched animation played out once again when Glee's cast performed the iconic song, jumping in and out of a picture frame where once inside, they too became black and white animations. Out of the frame, they returned to the full-color, live action.
To pull off the segment, Fox turned to visual effects house FuseFX, which has been working on Glee since the show first aired in 2009.
According to Jason Piccioni, visual effects supervisor at the studio's Burbank location, the concept originated with Glee co-creator Ryan Murphy. Piccioni explains that while on-set for American Horror Story, which FuseFX also creates visual effects for and is located near the Glee set, he received a phone call from Bradley Buecker, who was directing Glee's season opener. "He asked me to walk over to where they were starting to shoot, pulls out his phone and has the a-ha video playing and he says, 'Ryan wants to do this.' And that was basically it (laughs)."
Piccioni says, "It's funny, I'm not sure anyone took it all that seriously at first. We do a lot of musical numbers on Glee — sometimes they're pretty involved, so the kids are used to being asked to do some crazy things. But now we come in and we're like, crash into the hallway wall and paint a hole in the wall like Wile E. Coyote and they're kind of looking at us and laughing."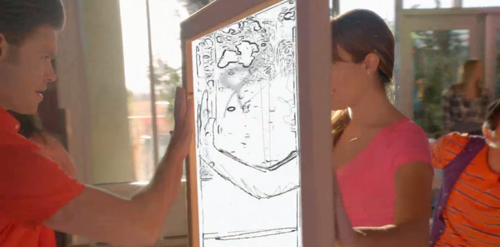 After spending several days shooting, the segment went into post, where editor Andrew Groves came up with his own technique to create that signature Take On Me look. "One of the things we dealt with in post was, the original video had such a great, lively hand-drawn quality to it, but on a TV schedule, we weren't going to have the time to recreate something like that," says Piccioni. "So, we had to figure out how to do it in a way that would work for us. Andrew figured out this line art look in After Effects and he processed the whole video. Then, the guys here at Fuse evolved that a little bit. What we ended up doing was, we set up all the shots and ran it through this line art effect that turned everything into this black and white cartoon look, plugged in where everything was going to go and then we turned that over to Cate Devaney, a storyboard artist that we use often. She painted [in Photoshop] on top of it, frame by frame, to give it that randomized, organic alive look that we all connected with in the video. That's when the piece really felt like it was coming alive. Everybody responded to it very well."
Piccioni says it was rotoscoped to blend the live action with the animated version as the cast jumped through the picture frame and a number of procedural effects were done in Nuke. "If you look closely, there are these random lines, shading, like water marks on the screen, and so all of that was created procedurally in Nuke before we went in and drew on top of it to save ourselves an incredible amount of time. Something else that was great about the look was, you could tell [Glee star] Jane Lynch looks like Jane Lynch. It was obviously her — there was no question about it. It maintained her sneer and smirks, and everybody was really taken with that."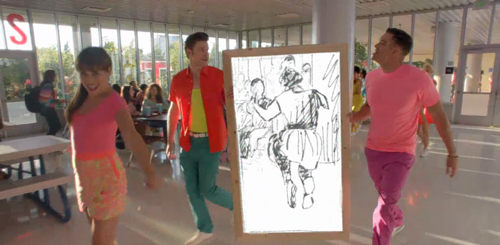 According to Piccioni, the biggest challenge for FuseFX was the three-week timeline they had to complete the segment. "Luckily, Ryan really liked what we were doing."
Piccioni adds that in the end, "it all came together pretty quickly and pretty simply — Brad just had this image in his head of how he wanted to do it. I think it was the day before we delivered, we all sat in a room and watched the video from beginning to end and I went, this is pretty cool. I'm proud of it and I know Brad and Ryan were really happy with it, too. It was nice to pull that off in the beginning of what is the last season of a show we've all worked on for the past six years."