ABC's "Station 19" Explodes Onto Primetime
Here's a snippet of Post Magazine's write up on "Station 19" and the amazing VFX work provided by FuseFX.
POST MAGAZINE – April 30, 2018
Last month, primetime viewers saw the premiere of the latest action-packed drama from Shondaland, a Grey's Anatomy spinoff titled Station 19. The ABC series is focused on a group of Seattle firefighters and the perilous situations that they find themselves in, each week.
FuseFX was tapped with bringing all of these dangerous escapades to life, and the VFX work is bountiful. For more information on their work, and to hear from the VFX Supervisor, Dan Levitan, check out Post Magazine's article below.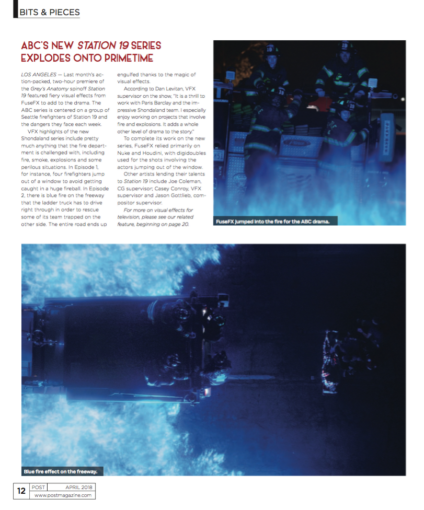 Follow FuseFX:
https://fusefx.com
https://www.facebook.com/fusefx
https://www.twitter.com/fusefx
https://www.instagram.com/fusefxinc
Media Contacts:
Oscar Negroni
Marketing Manager
FuseFX
oscarnegroni@fusefx.com
About FuseFX
FuseFX is an award-winning Visual Effects Studio providing visual effects services for episodic television, feature films, commercials, and VR productions. Founded in 2006, the company employs 300+ personnel across three studio locations: our flagship office in Los Angeles, CA, New York City, and Vancouver, BC.