"Preacher" Premieres at SXSW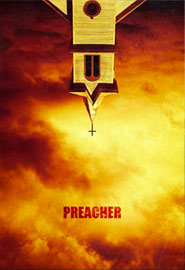 AMC series "Preacher" had its world debut last week at the SXSW film festival in Austin, TX. Seth Rogen introduced the pilot episode to a roaring crowd buzzing with excitement for this show, which is based on Garth Ennis' comic series from the 1990s. Seth Rogen, Evan Goldberg, and Sam Catlin are bringing this fan-favorite to TV screens, which has been a process more than a decade in the making. The FuseFX crew has done some incredible work on "Preacher," which premieres May 22 on AMC – stay tuned!
Check out some of the rave reviews here:
• Variety:
'Preacher' Premiere: AMC's Comic Adaptation Converts New Fans and Pleases the Faithful at SXSW

• Vulture:
Seth Rogen Previews Preacher, Blows Up Tom Cruise at SXSW

• Deadline:
'Preacher' At SXSW: Bloody, Violent & Hilarious Series Could Be AMC's Next 'Walking Dead'
Follow FuseFX:
https://fusefx.com
https://www.facebook.com/fusefx
https://www.twitter.com/fusefx
https://www.instagram.com/fusefxinc
Media Contacts:
Oscar Negroni
Marketing Manager
FuseFX
oscarnegroni@fusefx.com
About FuseFX
FuseFX is an award-winning Visual Effects Studio providing visual effects services for episodic television, feature films, commercials, and VR productions. Founded in 2006, the company employs 300+ personnel across three studio locations: our flagship office in Los Angeles, CA, New York City, and Vancouver, BC.