FuseFX HPA Nominated for '9-1-1' Tsunami Episode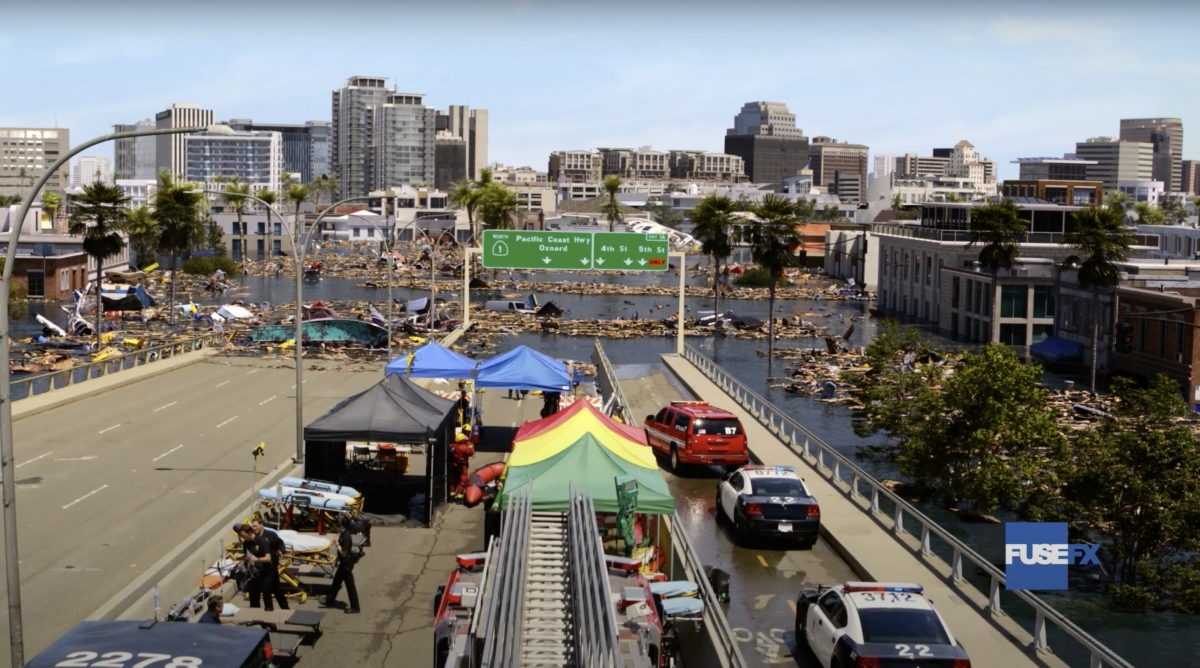 FOR IMMEDIATE RELEASE
FUSEFX NOMINATED FOR HPA OUTSTANDING VISUAL EFFECTS
"9-1-1" Tsunami Episode - Recognized for VFX Excellence
(LOS ANGELES— October 22nd, 2020) — The Hollywood Professional Association (HPA) announced today the nominations for the 2020 HPA Awards Awards. FuseFX, a Los Angeles-based visual effects studio, received a nomination for Outstanding Visual Effects – Episodic (Over 13 Episodes) for 9-1-1's "Sink or Swim" episode.
Adding another HPA nomination to its long list of accolades over the years, FuseFX has received back-to-back HPA nominations for their work on 9-1-1. Last season on 9-1-1, the VFX team created a major earthquake that earned them a 2019 HPA nomination in the same category. This season the VFX artists were tasks with building on their previous work as 9-1-1 showrunners wanted to up the adrenaline and excitement for its episode, "Sink or Swim." The episode begins with a major Tsunami hitting the city of Los Angeles, flooding the streets and causing utter chaos.
Jon Massey, the VFX Supervisor on 9-1-1, had this to say, "Thank you Hollywood Professional Association. It is a real honor to be recognized by our peers for the exemplary work done by so many artists and craftspeople on 9-1-1. Every year we push new boundaries that go above and beyond what we think can be accomplished. I am so grateful to our team at FuseFX who really gave their all to make this one of the best episodes of television in 2019."
FuseFX CEO/Founder David Altenau shares, "We were honored to have the opportunity to create the visual effects required to depict a Tsunami hitting Los Angeles for 9-1-1 last season.  To bring that kind of event to life is extremely demanding, requires tight coordination with production, extensive planning, and extremely complex visual effects work.  The artistry and technical skills of the team at Fuse to pull off the number of massive shots in telling that story was nothing short of amazing.  Plus it's a lot of fun recreating and then virtually destroying such iconic landmarks such as the Santa Monica pier when we see them in person so often."
Check out the 9-1-1 Tsunami VFX Breakdown:
About FuseFX:
FuseFX is an award-winning Visual Effects Studio providing visual effects services for episodic television, feature films, commercials, virtual and VR productions. Founded in 2006, the company employs 500+ personnel across seven studio locations: our flagship office in Los Angeles, CA, New York City, Vancouver, BC., and Atlanta. Our offices in Montreal, Toronto, and Bogota, is serviced by FOLKS VFX. Folks joined the FuseFX family of brands in 2020. For more information about FuseFX's studio, visit http://www.FuseFX.com
About HPA Awards:
The HPA Awards are considered the standard-bearer for excellence and innovation in an industry embracing an expanding array of groundbreaking technologies and creativity. Bestowed at a gala celebration each November, the Awards honor creative achievement, outstanding artistry, lifetime achievement, and engineering excellence.
Spread the word:
FuseFX receives a 2020 HPA Nominations -- Outstanding Visual Effects for 9-1-1. @911onFox #FuseFX #HPA #HPAAwards #VisualEffects #VFX #911onFox
Follow FuseFX:
https://www.facebook.com/fusefx
https://www.twitter.com/fusefx
https://www.instagram.com/fusefxinc
http://www.youtube.com/fusefx
More
12/18/2019

FuseFX BC Ugly Sweater Contest 2019

08/23/2021

FuseFX Wins Broze at AEAF for Marvel's Agents of S.H.I.E.L.D.

03/02/2021

FuseFX Receives Two 19th Annual VES Awards Nominations