FuseFX and Rosco to Reveal Technology Prototype for Virtual Production at the BSC Expo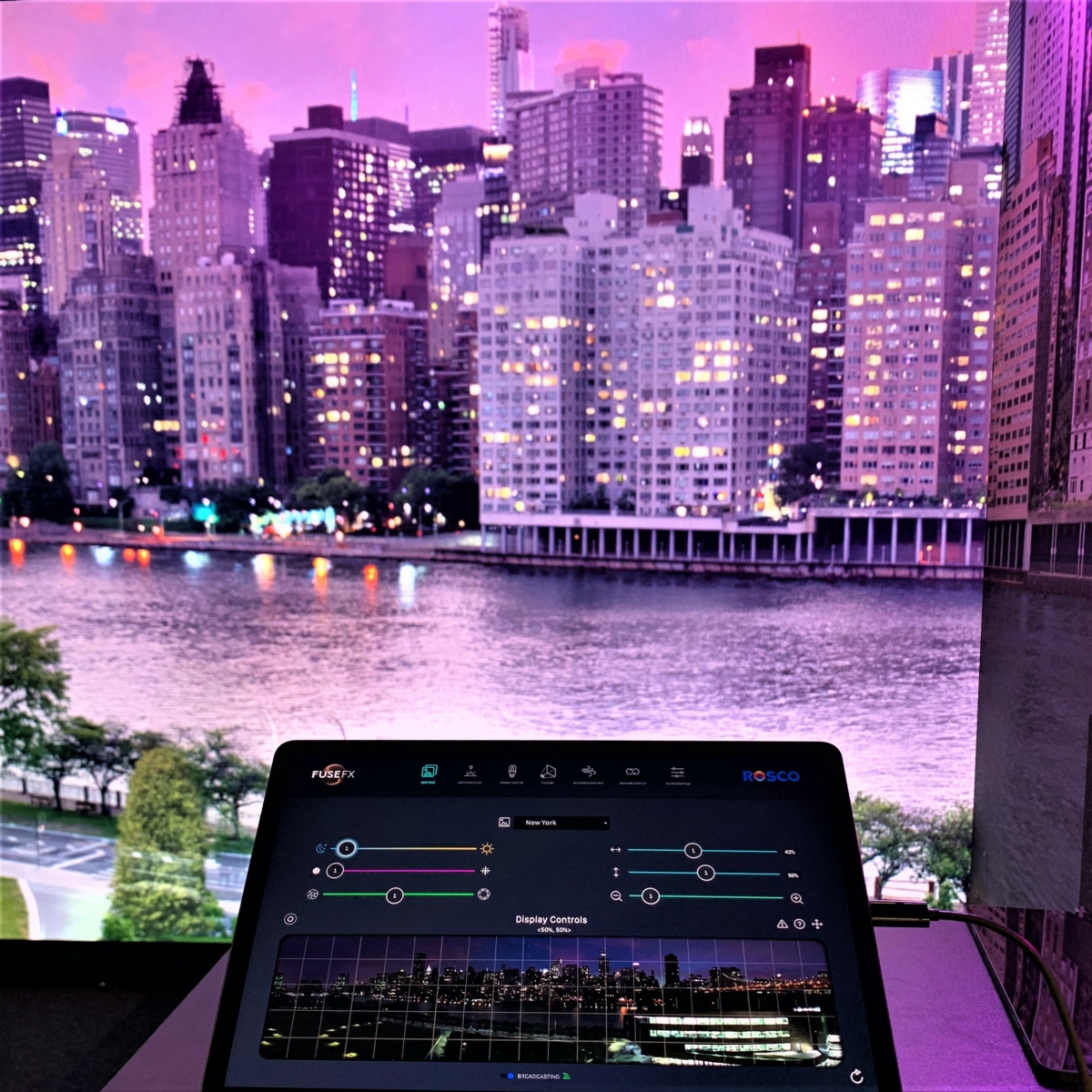 FUSEFX AND ROSCO TO REVEAL TECHNOLOGY PROTOTYPE FOR VIRTUAL PRODUCTION AT THE BSC EXPO
Prototype reveals The RDX LAB™ System, Powered by FuseFX, a complete ecosystem of interactive cinematic background imagery for use in virtual production.
(Los Angeles, USA- April 7, 2022) –  FuseFX, an award-winning visual effects studio that services film, television, commercials, and virtual productions worldwide and Rosco Laboratories, a global leader in lighting and backdrop technologies for the live entertainment and film & television industries, are thrilled to display their prototype of the Rosco Digital Experience, RDX LAB™ System at this year's BSC Expo.  The new technology introduces a complete, user-friendly ecosystem that includes Rosco's extensive library of cinematic backdrop assets, powered by cutting-edge virtual production technology from FuseFX.
The RDX LAB System includes:
A patent-pending ecosystem of interactive background imagery for virtual production.
The world's most extensive library of background images, created specifically for use in filmmaking. The images and motion plates have been shot at optimal resolution, taking into account the specified image properties required within the film and television industry.
Technology developed by renowned VFX experts FuseFX, allowing the images to be directly manipulated on set, becoming "Live Action BackdropsTM". Adjustments can be made to image depth, color, contrast, time of day, horizon line, blur, motion, focus, zoom, temperature, parallax, and more.
A user-friendly app to control the image being used in the LED volume. The app requires virtually no training and can be used directly on set while the image is being displayed on the LED wall. This allows for real-time changes without latency.
The RDX LAB System enables Directors of Photography to retain greater creative control during production. Without the extensive pre-production or post-production creation and manipulation of digital assets, filmmakers experience all of the upsides of virtual production, with the added benefit of creative control on set.
For Production Designers and Art Directors, selecting from the RDX Image Library means their trusted solutions for backdrops can be extended to virtual productions.  When including motion elements like fog, moving traffic, or other moving imagery, the backdrop takes on greater depth and becomes a more integrated part of their set.
A first demonstration and subsequent production were recently filmed within the LED volume at Thunder Studios in Long Beach, California.  The prototype on display at the BSC Expo will allow users to experience many features of the new technology firsthand, including image manipulation through the system's mobile app.
"The fusion of imagery from Rosco's library with technology from FuseFX delivers a complete ecosystem that will be a game-changer for filmmakers." says Rosco CEO Mark Engel.  "The RDX LAB System is based on visual assets that DPs and Production Designers have trusted for years, created by Rosco specifically for production backdrops.  Digitization from FuseFX using Unreal Engine propels this imagery forward for use virtual production. With FuseFX as our partners, we have created a unique user experience that brings cutting-edge technology to time-honored filmmaking techniques."
FuseFX President, Johnny Fisk notes, "The Fuse Group is a rapidly expanding business from a geographic perspective, but also in the type of work that we are doing. The development of this technology is a component of our expansion that uniquely serves customer needs and makes virtual production more accessible to more productions. Our partners at Rosco bring an impressive legacy of backdrop technology, which we are happy to build upon to suit the needs of production today."
The RDX LAB System, powered by FuseFX will be revealed as a prototype to the public during the BSC Expo in London from April 7-9, 2022. Future trade show presentations and localized demonstrations will be scheduled throughout 2022.
Contact us for more information. 
About FuseFX
FuseFX was founded in 2006 in Los Angeles by David Altenau and co-founders Tim Jacobsen and Jason Fotter. Establishing itself as an award-winning studio, FuseFX provides full-service visual effects for episodic television, feature films, commercials, VR, and virtual productions. The Company has ten studio locations, including its flagship studio in Los Angeles and offices in New York, Atlanta, and Vancouver. FuseFX is joined by its sister studios, FOLKS, with locations in Montreal, Toronto, Bogota, Saguenay, and Rising Sun Pictures, with locations in Adelaide and Brisbane, Australia, collectively known as The Fuse Group. The Fuse Group has a combined 1200+ artists across ten worldwide studio locations. The Fuse Group is a portfolio company of EagleTree Capital. To learn more about FuseFX, visit http://www.FuseFX.com
About Rosco
Founded in 1910, Rosco is a leader in products for the architecture, entertainment, film & television, and photography industries. Best known for lighting filters, the company offers product lines in more than a dozen categories, including LED fixtures, dichroic glass filters, lighting effects equipment, fog and haze machines, flooring, green & blue screen paint and backdrops for film, television and broadcast. Rosco has been recognized with four Academy Awards® for the development of innovative products and systems for the production of feature films. Headquartered in Stamford, CT, Rosco maintains fully staffed businesses in France, Canada, Spain, and the United Kingdom. For more information about Rosco, visit http://www.rosco.com
###
More
05/09/2019

FuseFX's Hair-Raising VFX Provides Chills for Netflix's "Chambers"

07/31/2019

FuseFX Siggraph Party 2019

09/16/2019

Photos: 71st Annual Creative Emmy