Agents of SHIELD VFX Team Talks Work on Show's Final Season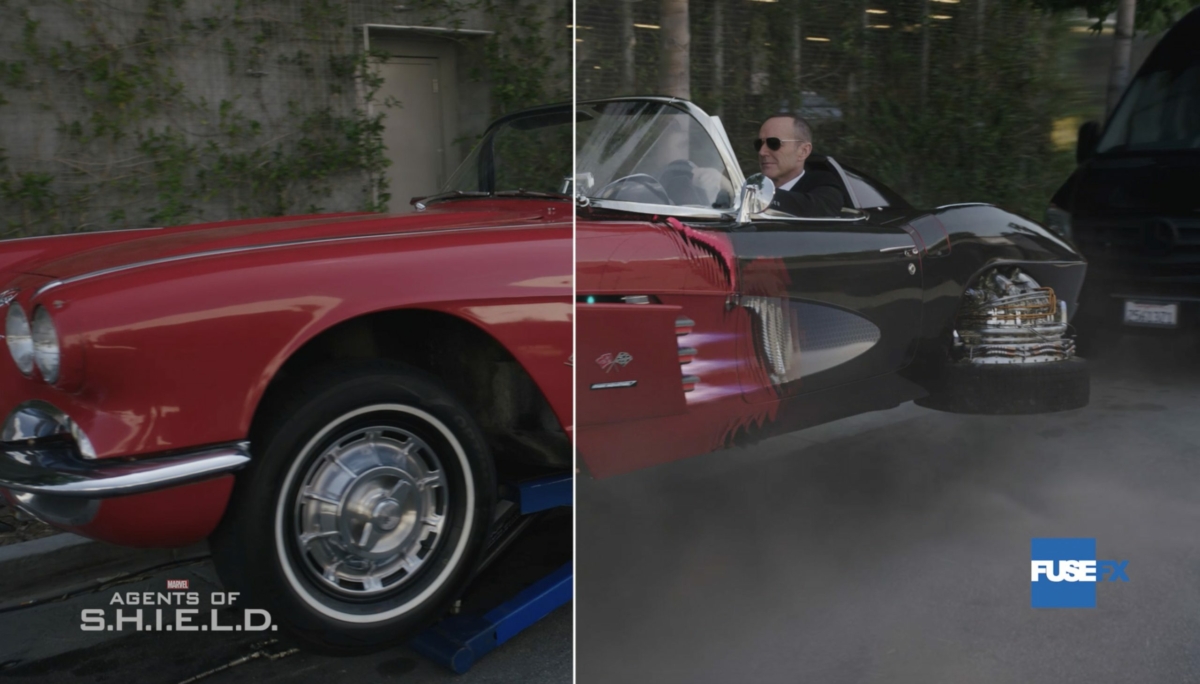 Visual Effects Supervisor Mark Kolpack & FuseFX's DFX Supervisor Kevin Yuille chat about the closing moments of the show
In the days leading up to the series finale of Agents of SHIELD, we sat down with production-side visual effects supervisor Mark Kolpack and FuseFX's Kevin Yuille to chat about the closing moments of the hit ABC show. Taking a deep dive into the CGI work on the time-traveling storyline, both Kolpack and Yuille detail their favorite moments from the show's final season and on a macro level, the series as a whole.
Though work has wrapped on the Marvel Television series, both VFX mainstays also teased their future in the industry, though, in typical Hollywood secrecy, both remained mum on their exact plans for their immediate post-SHIELD futures. Keep scrolling to see our full chat with the duo.
†

Time-Traveling Timelines
ComicBook.com: I'm not sure which one of you two wants to take this first, but you get the seventh season storyline and you see time travel, time streams, time loops, all sorts of that stuff. I'm sure as visual effects artists, your heart's kind of started beating a little bit faster as soon as you found that out, right?
Mark Kolpack: Yeah, I'll go first. Okay. So since my overall responsibility as the visual effects supervisor is that I work for the production, I get the scripts, I break down the scripts and I work with my producer, Sabrina Arnold, and we send things out. And FuseFX has been from the very, very beginning, our sort of lead house, a few of the houses that we've used over the seasons. They've been there from the beginning, so they do a lot of heavy lifting work as does another house named CoSA, but when we got... It's funny, every season we have evolved as a show, both from a story standpoint and of course a visual standpoint. Things always progress.
We got through with season six and season seven came right on the heels of it. And yeah, I was going to be like, "Oh, they're back in 1931," as we ended season six. We sort of picked up steam as the season went on and things evolved and things became bigger and jeopardy became bigger and everything became much more complex. But when it's all said and done, the odd thing is, when I look back at all 13 episodes, and when I look at all the work that we did, we did actually a really fair amount of work. For a season, I felt very light for us.
Kevin Yuille: Yeah. If I could add to that, the schedule was, is we delivered season six, and that was a pretty grueling delivery just because of how big it ended. But I don't think everyone realized that it was back to back for us. So we kind of rolled right into season seven. There was a little break, but it wasn't the typical schedule where we wrapped, then we have four months off or something, we went kind of right into the next season. And I don't know, I think for us that it was nice that it wasn't so heavy the first five or six episodes. Because it gave us a breather and it was kind of nice to do some of the more traditional kind of invisible visual effects where yeah, we did map painting, set extension, stuff like that. But the audience may not have noticed the work we did, it wasn't too obvious. It wasn't as full CG environment as some of the previous shots or whatnot, but...
I mean, some of the stuff we did in episode 702, which no one would even realize in a million years, was the set work in New Brunswick, Canada, wherever we were. We shot down in San Pedro but changed out the whole thing when Enoch got left behind. So you see the Zephyr, the advantages, that whole environment beyond there was a creation. We got rid of San Pedro, California, and put in New Brunswick, Canada. And then a couple of other shots with an old Model T or Model A, I don't know what model it was. But where the car was in a sort of a little alleyway or a little area of a loading dock and behind that was again, part of the map. So if you're not really aware of what we're... I mean, those just look like real shots that they pulled off and you would never in a million years think, "Oh, that's a visual effect."
Read the full interview here >>
†
###
About FuseFX:
FuseFX was founded in 2006 in Los Angeles by David Altenau and co-founders Tim Jacobsen and Jason Fotter. Establishing itself as an award-winning studio, FuseFX provides full-service visual effects for episodic television, feature films, commercials, ride films, and VR productions with a talented roster of creative and production personnel across locations in Los Angeles, New York, Vancouver, and Atlanta. In 2020, Folks VFX joined the FuseFX network of Studios expanding coverage into Montreal, Toronto, Bogota. FuseFX is a portfolio company of EagleTree Capital.
More
10/03/2011

Jason Piccioni Joins FuseFX as Visual Effects Supervisor

03/02/2021

FuseFX Receives Two 19th Annual VES Awards Nominations

04/24/2018

Lindsay Seguin Promoted to EP at FuseFX NY